The things that are sexy about men are wonderfully varied and abundant.
The list that follows highlights just ten of my absolute favorites in no particular order.
Dimples – I feel a twitch in my nether regions each and every time I see a man's face crease when he smiles. I become absolutely undone.
Eddie Cibrian sports a pair of the deepest dimples I've ever seen.
2. Crow's feet – A big no-no on women (supposedly), but for some reason I love, love them on men. There's something about creases around the eyes, especially when smiling, that suggests benevolence and wisdom.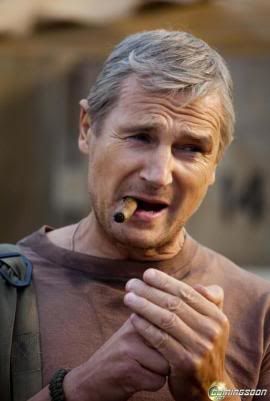 I love many things about Liam Neeson…but damn, those crow's feet!
3. Accents – Yes, even French accents. Seriously, there's something about a foreign accent that just melts my butter. Pretty much any accent will do. The last man I "talked to" was from my parents' native Jamaica. My parents were very keen on my sister and I not sounding Caribbean so there wasn't much broken English going on in our household. I'd make him repeat the most mundane things just so I could revel in his thick Patois. It was refreshing.
4. Hair – The long, thick kind. I'm not knocking the shorter cuts. I realize the longish hair doesn't work on all men. But when I see ponytails, dark or light, or hair that's just brushing the tops of a man's shoulders, I get the urge to lace my fingers in it and pull.
Nobody does sexy hair better than Johnny Depp!
5. Tattoos – My love for tattoos may just be a remnant from my "bad boy" phase. But nevertheless, I'm always intrigued when I see one, especially when placed on a nicely defined bicep, and want to know more about it and the man wearing it.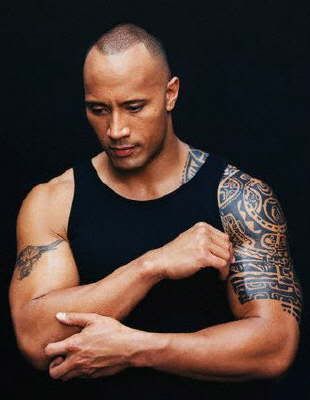 Dwayne "The Rock" Johnson. Beautiful, mixed, tattooed.
6. Good buns – And I ain't talkin' buttermilk biscuits! I'm notorious for "goosing". What can I say? I like a nice ass.
7. Happy trails – …make me wanna follow.
8. Suits – When a man cleans up, it shows he means business.
9. 5 o'clock shadows – I like a reasonable amount of scruff. I know it's totally irrational but there's something about flirting with a clean-shaven man that makes me feel like a pedophile.
This pic of Josh Holloway (LOST's Sawyer) showcases a perfect trifecta of 5 o'clock shadow, dimples and hair. Sexy!
10. Muscles – I really couldn't choose between pectorals, biceps, shoulders, forearms and lovely muscular thighs so I grouped them all into one category.
Actually, I just wanted an excuse to use this picture.
I'm salivating looking at this.
Muscles, in any muscle group, while not a strict requirement, are hot (as Djimon Hounsou so expertly demonstrates).
Honorable mention – Height – I was never really a size queen but lately I find myself really attracted to taller men. I'm not exactly sure why but there's something excited about standing next to  man that towers over you.